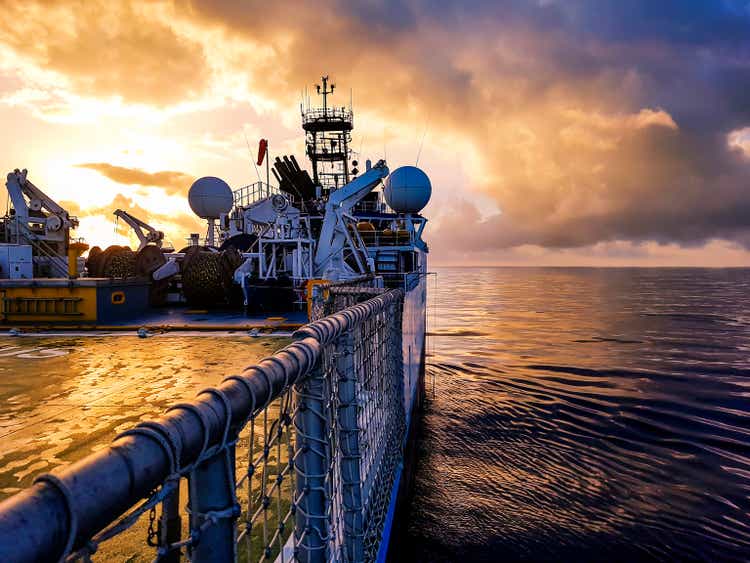 After the close of Wednesday's regular session, MIND Technology (NASDAQ:MIND, NASDAQ:MINDP) or "MIND", announced the receipt of an aggregate $7.7 million in new orders for sonar and source controller systems.
That said, the company had already projected these orders to come through and accordingly included them in its stated $22.9 million "total book of business" disclosed in both its Q1/FY2023 press release and quarterly report on Form 10-Q last month.
These new orders had been anticipated, but it is an important step to have them in hand. The equipment to be delivered includes multi-beam sonar systems, along with associated handling equipment, and seismic source controller systems. We expect all these orders to be completed and delivered in our current fiscal year. We believe these orders indicate the strength in military and exploration markets and we expect further orders in the near future.
As a result, these orders won't result in upside to the company's previously communicated expectations.
In addition, MIND surprised investors with the decision not to declare a quarterly dividend on its 9.00% Series A Cumulative Preferred Stock ("Series A Preferred Stock") for the second quarter of its fiscal year ending January 31, 2023.
Due to liquidity demands to complete these, and other, orders and the uncertainty as to the timing of certain cash flow, we feel it prudent to defer the payment of the second quarter dividend on our Series A Preferred Stock. The Company continues to have positive working capital and no funded debt.
As the Series A Preferred Stock is cumulative, the non-payment technically represents a deferral:
The Company may defer dividend payments on the Series A Preferred Stock, but the dividend is a cumulative dividend that accrues for payment in the future. During a deferral period, the Company is prohibited from paying dividends or distributions on its common stock, or redeeming any of those shares. Further, if the Company does not pay dividends on its Series A Preferred Stock for six or more quarters, the holders of Series A Preferred Stock will have the right to appoint two directors to the Company's board.
While liquidity was already down to a paltry $0.8 million at the end of April, management tried to reassure investors on the recent Q1 conference call:
MIND's capital structure and liquidity remain good. As of April 30, 2022, we had working capital of approximately $16.7 million and cash of approximately $817,000. We collected approximately $4 million of accounts receivable in May, so our cash situation has improved significantly and we have good visibility on additional receivables that are imminent.
Obviously, the board of directors didn't share management views as it decided to hold off on the $0.95 million quarterly dividend payment.
Please note that just seven months ago, the company completed a $10.5 million follow-on offering of its Series A Preferred Stock at a price of $24.25 per share.
But with more than $20 million of cash used in operating activities since the beginning of FY2022, signs of distress have become apparent in the stock price in recent months. At Wednesday's closing price of $13.40, the preferred shares were down approximately 45% from the offering price in November.
In FY2022, the company raised an additional $5.2 million from selling preferred shares into the open market under its at-the-market ("ATM") offering program with Ladenburg Thalmann.
But with the dividend yield approaching 17%, the cost of capital has become prohibitive for the company. While MIND also has the ability to sell common shares under the ATM, the weak stock price and tiny trading volume effectively precludes the company from going through this avenue.
Bottom Line
MIND Technology bags some well-anticipated orders but shocks investors with the decision to "defer" the quarterly dividend on its 9.00% Series A Cumulative Preferred Stock in order to preserve liquidity for apparent working capital requirements.
Given the company's ongoing liquidity issues, I do not expect MIND to catch up on the preferred stock dividend anytime soon.
With very limited additional sources of liquidity available to the company at this point, preferred stockholders should seriously consider selling existing positions and moving on.